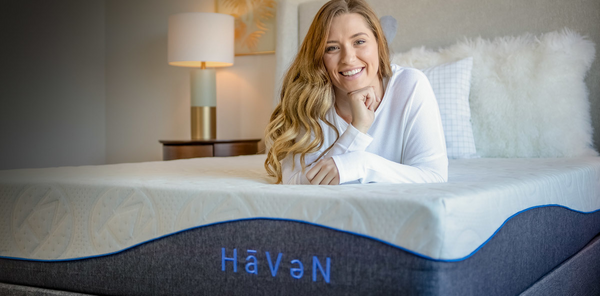 How to Choose The Right Mattress
Choosing a new mattress is time consuming and confusing.
It's a big decision that takes a lot of careful consideration. Being a long-term purchase, you want to make sure that what you buy is going to last & deliver the same quality sleep throughout its lifetime. First, let's talk about the different types of mattresses out there. 
Memory Foam
Memory foam has quickly become the preferred mattress type by online shoppers. It's easy to see why. Memory foam is arguably the most comfortable, contouring, and responsive of all the mattress types. But there are a few distinctions worth noting between these popular picks. For starters, mattresses containing higher-density memory foams are more expensive to manufacture. As a result, very few of the bed-in-a-box companies choose to use it. However, premium retailers like Haven still use high-density memory foam because it provides a slower-responding feel, as well as additional durability and longevity.
The potential downside? Memory foam may retain heat, depending on how it's manufactured, and whether it's been designed with cooling properties or air canals. So be sure to take this into consideration and look for memory foam mattresses that also provide moisture wicking and cooling technology. The LUX Rejuvenate is an excellent example.


Who Benefits Most from a Memory Foam Mattress?
Those looking for pressure-point relief for their back, shoulders, and hips should consider a memory foam mattress. Also, if you crave a body-contouring and motion isolating mattress (so your partner doesn't wake you up each time they change sleep positions), then you definitely won't regret choosing memory foam.
Hybrid
Next on our list is hybrid mattresses. These mattresses truly are the best of both worlds. You get the support and bounce that many people value in spring mattresses, while at the same time getting to experience the soothing comfort of memory foam.


Who Benefits Most from a Hybrid Mattress?
Those interested in a mattress that offers the feel of memory foam while maintaining the support a spring mattress are likely to prefer this type of bed. Edge support, motion isolation, and bounce all rate highly with hybrid mattresses. So if you sit on the edge of your bed in the morning, sleep with a partner, or have an active sex life, then a hybrid mattress should rank near the top of your list. 
Innerspring (Coils)
Innerspring mattresses are what comes to mind for most people when they think of a traditional bed. Chances are you grew up using a spring mattress, had one in college, or have slept on one at mid-range hotels. They are generally less expensive to manufacture but do last a loooong time.


Who Benefits Most from An Innerspring Mattress?
Those who want durability, some bounce, good support, and impressive airflow (cooling) should consider an innerspring mattress. The edge support on most spring mattresses is also impressive.


Latex
Latex mattresses are another good option. Haven's Talalay Latex mattress is derived from the rubber tree. It gives off a milky white sap that is processed with a few other ingredients to transform the mix into rubber. Most latex mattresses consist of a blend of both natural & synthetic materials. Natural latex is more environmentally friendly, which is why Haven chose Talalay Latex for its' mattresses. 

Who Benefits Most from a Latex Mattress?
Those who want bounce, cooling, durability, no smell, and a mattress that is made with eco-friendly materials (only natural latex). 
VIEW HAVEN'S LUX PILLOWTOP HYBRID MATTRESS
For more help choosing the right mattress for you, check out our blog post on sleep positions, or give us a call at 1-844-MY-HAVEN.


---