5 Genius Ways to Upgrade Your Dorm Room this Fall
School's almost back - why not have the best dorm room on campus? 
We're here to help you upgrade your room to set you up for success!
Fall is just around the corner and it's time to start getting ready for back to school. Whether you're moving onto campus for the first time or wanting to spice up your current dorm room, we want you to have the best room on campus!
 Settling into a new space can be overwhelming, but one of the best ways to ease this transition is to make yourself feel at home. It's important you love your space so you feel comfortable and happy. That's why we've created a list of 5 genius ways to upgrade your dorm room this year, so you can be comfy and cozy all year long. 
Here are 5 ways to upgrade your dorm room this school year!
1. Get the Comfiest Sleep Upgrade with Haven Sleep Co.
Nothing's better than getting into bed after a long day of school and getting a good night's sleep (or a quick nap between classes). Getting a supportive and high quality mattress is a game changer for great sleep. Luckily, Haven has the perfect Back to School bundle with everything you need for the best sleep upgrade. 
The Back to School Bundle includes:
AirFlow, AirFlow Plus or Pocket Coil mattress (you pick!)

Bedface Cool & Crisp

Percale Sheet Set

Bedface matching

Duvet Cover
Air Memory Pillow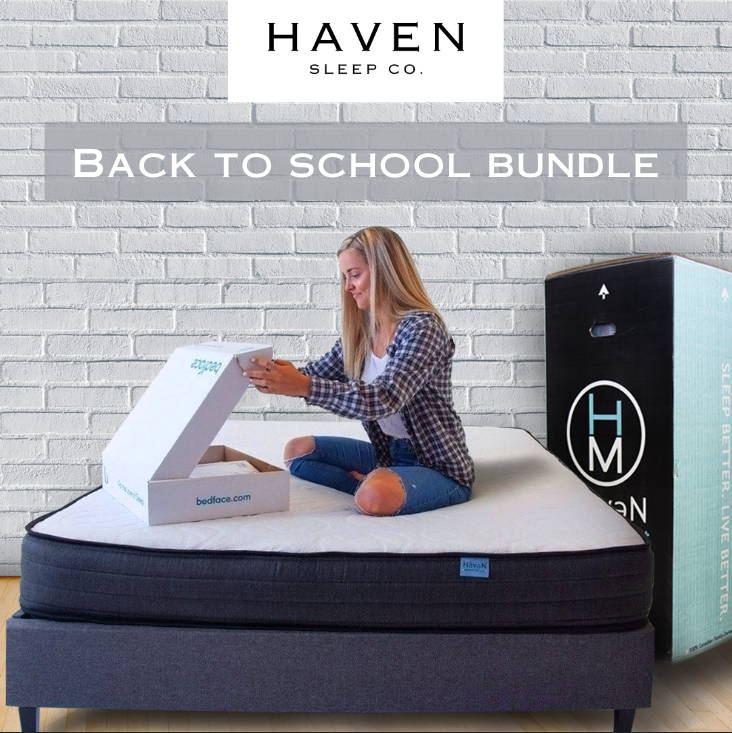 2. Add Some Life to Your Room
There's no question about it that plants add a certain liveliness to your space. We love getting cute pots and different types of plants to liven up our space. (Just don't forget to water them!)
3. Make Use of Every Nook and Cranny for Storage
Clean space, clean mind. Dorm rooms can sometimes feel a little tight and it can get messy quickly. Keep your belongings tidy by making storage space and organizers in places you wouldn't have thought of. Floating shelves are great way to use up extra wall space to organize your books and extra knick knacks. Also, taking advantage of the empty space underneath your bed with organization bins is another genius way to store your belongings. 
4. Personalize Your Room With Photos and Artwork
Surrounding yourself with photos of familiar faces can be really comforting and a great way to feel at home. It's fun to look back on memories and is a great conversation starter if you're having visitors. Hanging up your favourite artwork is the perfect way to express your personality and personalize your environment. 


5. Don't Underestimate The Power of Curtains
Curtains are a wonderful way to decorate your room. They really tie the room together and there's so many different colours and styles to choose from. Also, they're perfect for keeping the light out of your room while you're sleeping so you can get a full night's sleep! 


Don't forget to check out Haven's Back to School bundle before it's too late! Not only will you save $325+ on a luxury sleep set, but you will feel rested and refreshed every day before school. 
Are you a student on a tight budget? Upgrade to this dreamy back to school bundle today with the help of Affirm or Sezzle financing!
Wishing you all the best this school year!
---