Jillian Harris Farmhouse Episode #4
*Jillian Harris & her team wrote this article*


I can't believe that the farmhouse reveal is officially HERE! 🎉 I hope you enjoyed our entire four-part series so far, it is such a special project to share with you! Alright, let's dig right in!

When we first bought the farm and when I walked into the Farmhouse for the first time, I legitimately never thought that we would ever spend a night here. I knew it used to be filled full of laughter and happy memories but when we took possession it needed work. Lots of work. For whatever reason… i just never saw the potential. 

Well, fast forward to 2021 and I am completely blown away at how much time we spend at the farmhouse. In fact, I would say we spend at least 30% of our time there! There is no heat or air conditioning, no dishwasher, no washer and dryer, no TV … and it fills me with SO MUCH JOY. I am much more relaxed when I'm there, and even though I almost tripled my budget (more on that later … lo!) I am so happy that I did because it has quickly turned into our home away from home. If it had a laundry room, a slightly bigger closet, and maybe air conditioning in the Summer (it gets VERY hot here), I could live there year-round! I am so happy with every little detail and I can't wait to reveal the final space with you today!

So, surprise surprise … I went wayyy over budget! But, to be fair, we spent most of the budget on things that you can't really see. For example, we had major issues with the plumbing, the roof, and some electrical issues. Not to mention, we MIIIIIGHT have been a little eager and spent a lot of money on landscaping which I have since started to regret. Let me explain. I don't regret investing in landscaping in general, but the farmhouse property is already so gorgeous. So, looking back, I think we would have been equally as happy leaving it well enough alone.

When it comes to the inside of the house, I don't regret any of my splurges. I invested in two new bed frames from Wayfair, we got all new mattresses from Haven Sleep Co.(which are THE BEST by the way, made in Canada and SO comfy), I got a few custom built-in pieces, new lighting, new bedding, and new plumbing fixtures. I am pretty pleased with the upgrades considering how much time we spend there and ultimately, I know it's going to increase the longevity of our little farmhouse. Our plan is to eventually build on our property, but that farmhouse will always be there and I know it will continue to bring us so much joy. It might end up being a guest house in the future, a house for a potential farmhand (if we are allowed) or even an office. There might be rules that we need to follow due to our land being on agricultural property, so whatever we are allowed to do we hope we can keep that house forever.
Alright, who's ready to see the OFFICIAL farmhouse reveal?

The Entryway

We have two entryways in the farmhouse, but I would say this is the main entryway! We decided to paint the front screen door in the happiest yellow, the paint colour is called Dorset Gold HC-8 from Benjamin Moore. While there isn't a lot of room in the entryway area, I managed to add a wooden bench (a Facebook marketplace find!), a few pillows from home, and this washable rug from Ruggable.

Living Room

The living room has to be one of my favourite places in the farmhouse, and it's the room where we spend a majority of our time; if we aren't outside that is. As you know, I decided to step out of the box a little and paint the living room floors BLUE! I know, it was a bold move for me! The paint colour is Mozart Blue 1665 by Benjamin Moore and I absolutely love how they turned out.

Now, when it comes to the furniture and finishings in this room most of them either came with the property or were a Facebook Marketplace or Value Village find! I even found a couple of pillows in the trash!! That's right, I spotted them in the trash one day after work and I scooped them up, gave them a good wash, and styled them in our space! (side note – this was at the height of covid and Justin was DISGUSTED that I brought throw pillows home from the trash when there was a global pandemic in progress but they were so pretty I didn't think twice! LOL) 

I found the couch in our living room on Facebook Marketplace, but if you are looking for a similar style I found this one from Wayfair. The armchair is another Facebook Marketplace find and the old chest we are using as a coffee table is something I've had since I was a kid and I'm so happy I hung onto it, I'm sure you could find one at a vintage store or on Facebook. (by the way, this blog is not sponsored by Facebook although I'll be happy to be your new marketplace spokesperson hahaah!) The area rug is a woven jute rug from Rugs USA and I just love how it adds texture to the space! Plus, it's great for hiding dirt, sand, and stains! 🤪

Now, in this space we had a few custom pieces created, the first is this gorgeous armoire from Primrose Lifestyle. In the early stages of this transformation, we had a big clunky armoire in this space that I found on Facebook Marketplace, but it took up so much room and was falling apart, that I decided to have a custom piece made for this spot instead. 

The next custom piece we added to the living room was this built-in bench from Norelco Cabinets. One of the biggest challenges with this little farmhouse is that there is quite literally ZERO storage, so I thought a built-in bench with storage underneath and a bookshelf off to the side would help alleviate that pain point. Norelco Cabinets is a locally owned cabinet manufacturing plant that has been operating in Kelowna since 1972. One of the many reasons that I enlisted their help on this project is that their cabinetry is Canadian Made, with the highest quality material from North America and Europe. Their team was beyond helpful and I am so happy with how this built-in bench turned out!

The Kitchen

When it came to designing the farmhouse I knew that I wanted it to be colourful and fun. I have to say, the kitchen was one of my favourite rooms to design for this project. We went with canary yellow kitchen cabinets, a vintage-inspired cherry wallpaper, and even a green ceiling … who am I?! LOL!

We splurged on a few items in the kitchen and those were the appliances! At first, we had a used fridge and stove in the kitchen, but the shelves on the fridge were broken and the temperature was extremely inconsistent and was spoiling some of our food. The stove elements rarely worked, so they needed an upgrade. I really wanted to keep the overall design of the farmhouse very vintage so when I was searching for new appliances I was ECSTATIC when I discovered Elmira Stove Works!

Elmira Stove Works appliances come in 7 different colour options (they can even do custom colours if you wish!) and they have a beautiful antique selection of new appliances. Elmira Stove Works is based out of Elmira, Ontario and all of their products are made to order right from their facility in Canada, now that's not something you come across these days. The appliances that I selected for our kitchen are the 1950 – 30" Bottom Mount fridge in the colour bisque, along with the 1954P – All Electric 30" Range in bisque as well. If you're in the market for beautiful retro-inspired appliances that are made in CANADA, look no further than Elmira Stove Works!

Dining Nook

Right off of the kitchen leads into our little dining nook (we call it the sunroom) and this has to be another one of my favourite spots in the farmhouse (it's so hard to pick just one)! This is another area in the farmhouse where i could NOT imagine us EVER using but now we use it every day)  We also had a few custom pieces made for this room due to the lack of space but need for storage. The gorgeous dining table was another piece we enlisted the help of Primrose Lifestyle  as well as 2 beautiful wooden shelves to make for us and I am so happy with how it turned out. We went with a slightly taller dining table as I wanted to incorporate a few counter stools for seating in addition to our built-in bench in order to accommodate as many people as possible in this quaint area. The cushions for the built-in bench were another custom piece made by Bright Living Designs! (The cushion for the living room bench is also from her!) 

Long story short, this little farmhouse did not come equipped with nearly enough storage for the Harris/Pasutto household so we needed to add in some extra wherever we could! 😂

The Kids Room

Welcome to the kid's room (or the green bedroom as we like to call it … very original I know! 😂 ). Another bold colour choice for me! The green walls are Kennebunkport HC-123 by Benjamin Moore and Mozart Blue 1665 by Benjamin Moore! We purchased the beds from Wayfair, the bedding from IKEA, the light fixture from Wayfair, and a few mushroom-inspired decor pieces from Urban Outfitters. The rest of the pieces in this space were either from Facebook Marketplace, laying around the home or thrifted!

The Bathroom

As you can see, the bathroom is tiny but SO cute! We slightly upgraded this space by adding a new toilet, a vanity, a mirror, and lights but other than that we pretty much left everything else as is! The scones are from Wayfair, the bath runner is from Urban Outfitters, and the towel rack is also from Wayfair. That's pretty much everything from this space, as there isn't much room for anything else 😂

The Pink Room

Last but certainly not least is the Pink Room! As you can see from the photos, it is another very tiny room, but it's so cozy! I swear I have some of my best sleeps at the farmhouse and specifically in this bed in particular, it must have something to do with the Haven Sleep Co. mattresses. In fact, I was having SUCH great sleeps that we even decided to upgrade our mattress in our room at home to a Haven Sleep Co mattress!

I didn't do much to this room at all, in fact, the wallpaper came with the farmhouse! The bedframe is vintage along with the wood chair (both from Facebook marketplace), the quilt is from Urban Outfitters, the throw pillows are from Alchemy Living (one of my favourite local shops in Kelowna!), the shades are from Wayfair, and the lamp is from our house, but here is a similar one! As you know by now, everything else in our bedroom is either from FB, vintage, thrifted, or from our house.

Before Photos

I seriously can't believe that the farmhouse renovation is complete, while I was writing this blog I was taking a look down memory lane and can't believe how far we've come!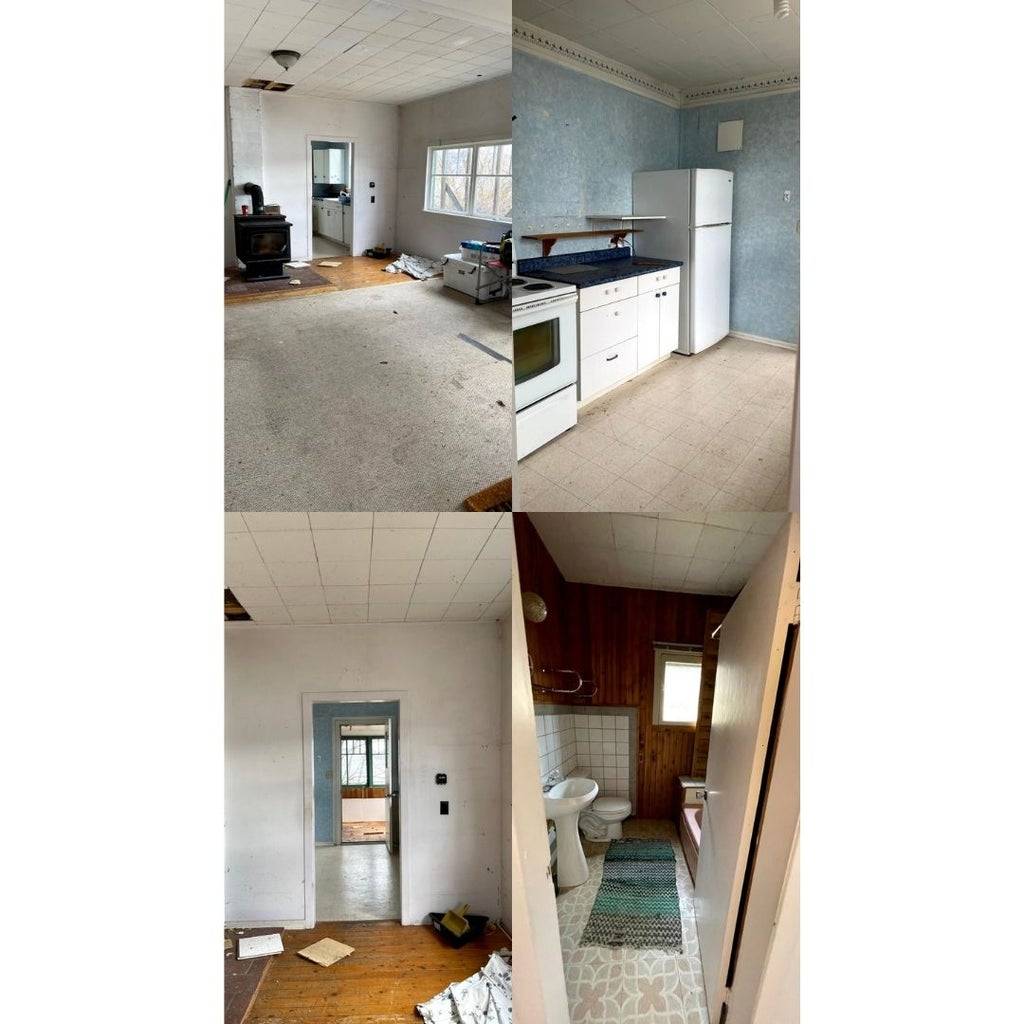 Trade We Love To Work With 

Even though the farmhouse space is quite small, we had a handful of trades and local companies that helped us out with this project and we seriously couldn't have done it without them!

CW Persona 

Tori's husband Charles owns CW Persona and he pretty much helps us with every build of ours. I am so grateful for him and his team who single-handedly managed the entire project.

Bridge Energy 

When it came to all of the electrical work, we hired Jake and Scott from Bridge Energy! They are so knowledgeable and helped us with all of our electrical issues.

Ivory Contracting

A big project for this space was painting all of the walls, exterior, trim, and even the ceilings! The Ivory Contracting team was so patient with me while I flipped between hundreds of different paint colours, changed my mine which felt like a million times and they did such a wonderful job!

Bright Living Designs

Bright Living Designs made our cushion covers for the built-in bench Norelco Cabinets did in the living room and she also created cushions for the custom bench in the dining nook. They are not only gorgeous but so comfy to sit on!

Fine Line Appliance Installs

Fine Line Appliance Installs helped us move in the Elmira Stove Works appliances and helped install them! I am so grateful for their help (and I know Justin is too!) not only did they help install the appliances, but they also helped Justin bring them into the kitchen!

Well, there you have it! I am over the moon with how the farmhouse renovation turned out, which is making it really difficult to work on the designs for the new house because were just so content here. I hope you enjoyed this 4-part mini-series and I can't wait to bring you along on our other farm-related adventures.
xo
Written by Jillian Harris 
Please note that her team did partner with Elmira Stove Works, Norelco Cabinetry, Primerose Lifestyle, and Haven Sleep Co. on this project, but all thoughts and opinions are my own.
---